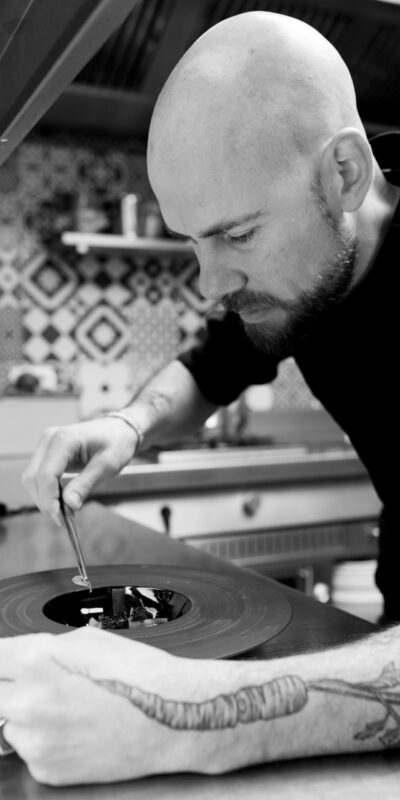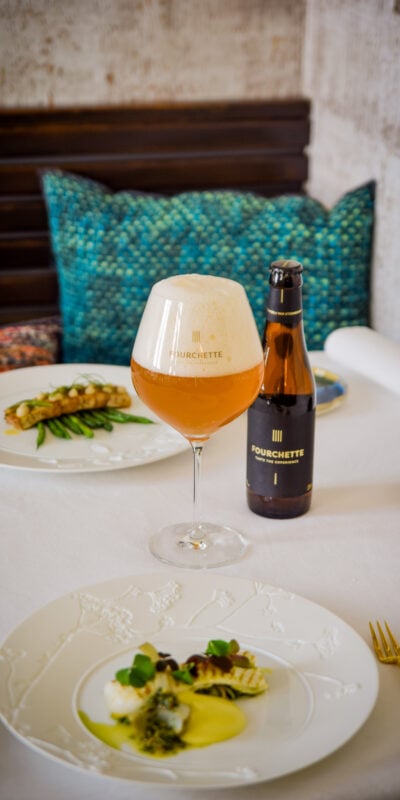 Rock-'n-roll motherf*ckers. It is a philosophy of life
North Sea Chef Bart Tastenhoye, together with his life partner Dorotée Hoste, operates Taste in Leuven and the Chalet Taste in Tervuren.
A description of the kitchen? Gastronomic delights in a bohemian twist. A product kitchen with fresh works of art on your plate every day. Classically inspired without compromising the principle ingredient of the menu. Combined with the personalized welcome, peak interior and cozy atmospheres, this concept brings a total culinary experience.
Ideal for Fourchette is my menu of mullet and squid
k serve this with a savory ruby velvet cake based on almond, beet and candied lemon. A texture of radishes and the vinaigrette of Chardonnay vinegar and radish tops off this menu.
A fresh dish that perfectly complements Fourchette's floral and fruity character. As a North Sea Chef, I personally find it very important that we work with fish from our own North Sea. These pure products including Red Spoon, Rye, and Pieterman are wonderful to work with and so we contribute our support against overfishing.
Chalet Taste is a different concept, however very contiguous.
It is a modern meeting place in nature where you can gather with friends, family or colleagues (for private or business events). In addition, your taste buds will also be stimulated with our cookbook accompanied by myself, several guest chefs or professors.
Reservations should be made in advance and can be made at www.leuventaste.be
Cheers.
Bart Tastenhoye